How to set up VeriScan Authentication (Fake ID Detection)
TABLE OF CONTENTS
Downloads and Installation
Prerequisites
Please download the following prerequisites before attempting setup:
The Document Engine and Document Library (Given together as Authentication.zip), are both provided by your support agent.
Installation
To install the authentication engine provided by your support agent, please do the following: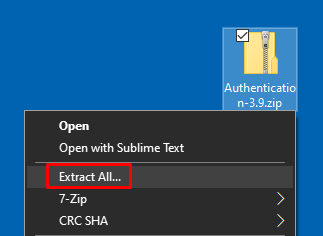 1. Extract all files from Authentication.zip.
2. Go into the Authentication Folder

3. Extract all files from DocumentEngine_V#_Installer.zip.
4. Go into the folder named DocumentEngine_V#_Installer.
5.
Run setup.exe.

6. Go back up to the Authentication Folder you unzipped.
7. Run DocumentLibrary_V#.exe.
For the following, do not check or change any configuration options unless instructed by a support agent:
10. Reboot Computer.
License Activation
Open up the desktop software and you will be prompted to register.
Provide support with your Computer ID as it appears on the screen and they will issue your license.
You can either create a support ticket or press the Register Now button in VeriScan.
In either case, please provide the Computer ID as well as your Order / Invoice Number.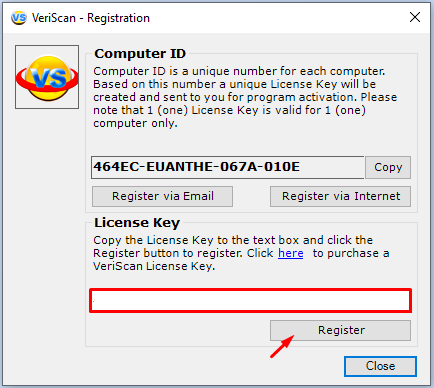 Copy/paste it into the License Key field and click the "Register" button.
If you would like an in-depth tutorial on setting up VeriScan for the first time, click here.
Once VeriScan is activated, it's now time to activate the authentication license.
Navigate to Setup > Validation Settings > check Validation Engine > Close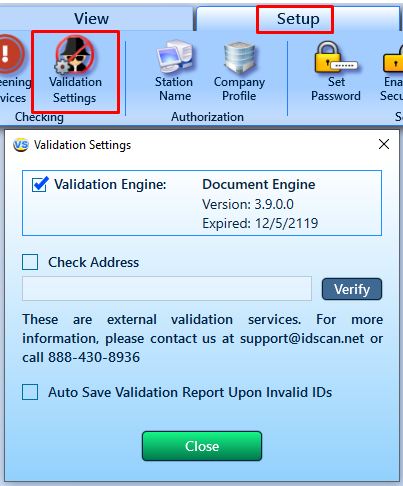 A window will pop up that says "No Suitable License Found, Would you like to launch the License Manager?"
Click yes, and wait for the License Management window to appear.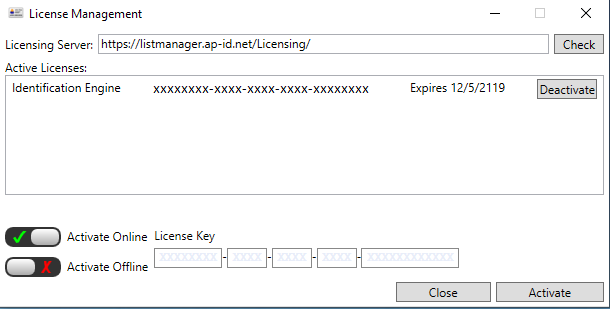 Enter your key into the License Key field. Do not toggle activate offline unless you do not have an internet connection.
Once Activated, your license should appear in the Active Licenses list in the License Management console.
If you are not prompted to enter in the license, restart the application and try the license activation again.
Scanner Configuration
To activate the scanner, click on Setup > Page Reader Settings
Verify your settings match the example below: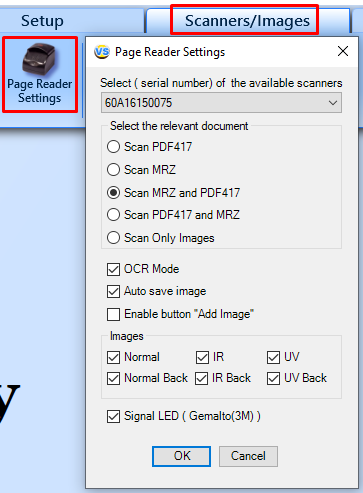 VeriScan Online Configuration
(Optional - only for VeriScan Online subscribers)
To connect your VeriScan Online account, click on the Setup tab > Set Data Sources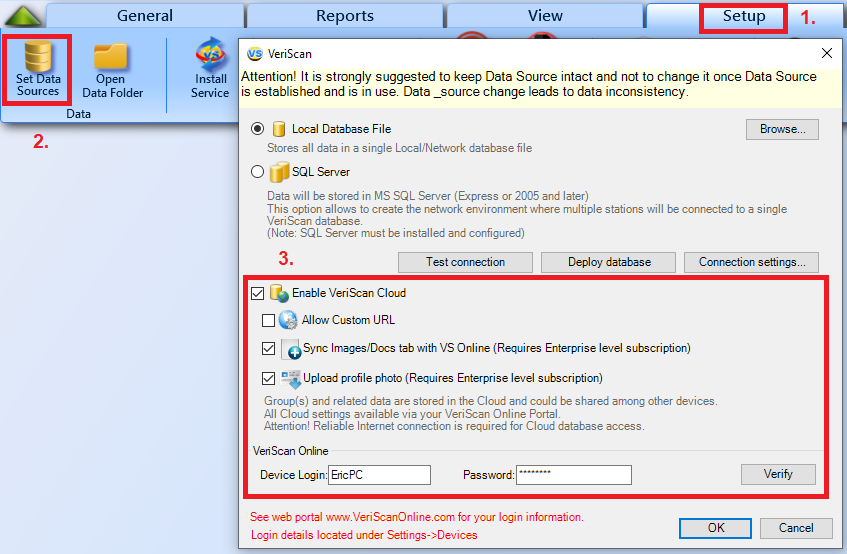 Now you can create Locations with your portal and assign each device/scanner to its appropriate Location.


Enter your Device login information as seen on your account under Settings > Devices