How to set up VeriScan Mobile (legacy) on iOS
TABLE OF CONTENTS
Downloading the App
Our application is available on the Apple App store.
Searching the store for "VeriScan" returns a number of different applications.
IDScan.net has two VeriScan applications published by Abycus.
Make sure to download the one that says "VeriScan - ID Scanner/Checker."
Licensing the App
Licensing the App requires creating an account for VeriScan subscriptions.
Each device will need its own account created using a unique email.

Follow the instructions below to create an account:
Launch the app from your home screen.
Click on the Gear icon at the top right.
Select "Premium Features."
Click "Sign In" at the top left of the Premium Features page.
Click "Sign Up" on the bottom of Sign In page.
Fill out the required fields - Email, Password, and Re-enter Password. Then click "Sign Up."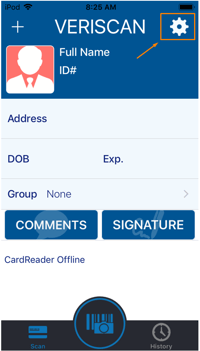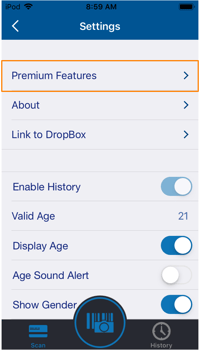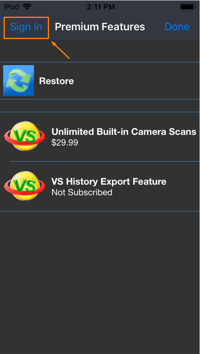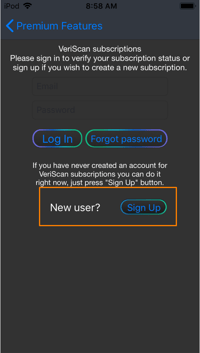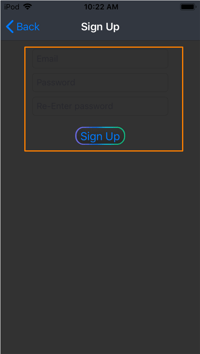 Once you have created an account, create a support ticket here with your order information showing purchase of the subscription along with the email address used to sign up.
If you have not purchased a subscription, you can do so within the app. If purchased as an in-
app purchase, there is no need to email support to license the software.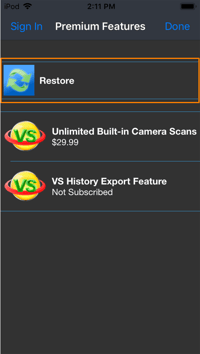 After receiving confirmation from the IDScan.net support team that your license has been activated, navigate back to the Premium Features page and click Restore.
This will activate the license. All scans will now populate into the History and are able to be exported.
Unlimited Built-in Camera Scans is an in-app purchase that is separate from the license. This option must be purchased within the app.