How to manage Groups inside VeriScan
Creating a Group
To create a group, first navigate to veriscanonline.com > Groups/Alerts > Groups > Add.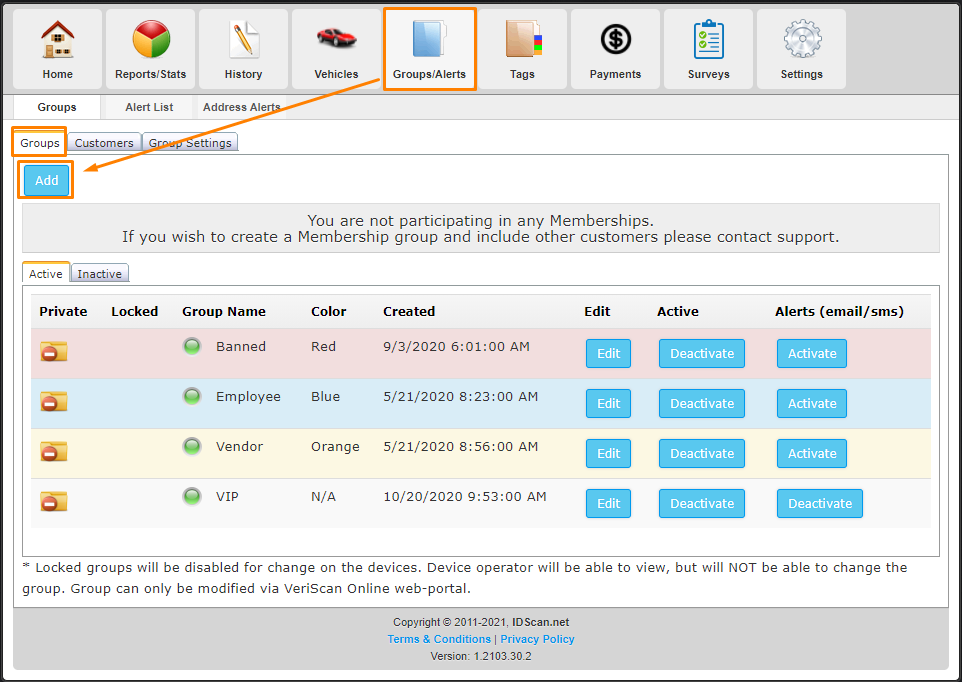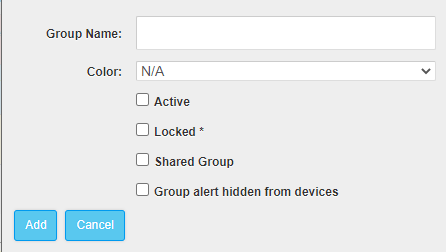 Group Name: This is the name of the group and will display on assigned person's profiles.
Color: This is the color of the alert message which indicates which group a person is assigned to.
Active: Makes the group active.
Locked: No additional people can be assigned to the group.
Shared Group: Allows groups to be shared across multiple portal accounts. This requires specific setup. Create a support ticket here for help.
Group alert hidden from devices: This will disable the group alert message.
After choosing a name, color, and enabling the appropriate check boxes, click "Add" to create the group.
Managing Groups
Active and Inactive groups can be managed from the veriscanonline.com > Groups/Alerts > Groups menu.
Active groups are under the Active tab, and Inactive groups are under the Inactive tab. Both of these tabs have 3 columns allowing quick adjustment of the settings related to that group:
Edit: This button will access the same menu used when creating a group. Everything about the group can be changed. Once changes are complete, click "Save" to enable the new settings.
Active: This column will change the state of the group from active to inactive or the reverse. This is the same as checking or unchecking the box labeled "Active" in the Edit menu.
Alerts (email/sms): This column will activate or deactivate notification alerts for the specific group. These notifications are not the same as the alert message on the device itself. These notifications will use email or SMS to notify the contacts configured in the settings menu. See configuration steps below:
Navigate to veriscanonline.com > Settings > Local Settings.
Scroll down to the Alert Emails and Alert SMS settings.
Enter email addresses or phone numbers that will receive alerts. Use commas to separate multiple entries.
Customers within Groups
The customers tab located at veriscanonline.com > Groups/Alerts > Customers allows searching of all customers within a specific active group.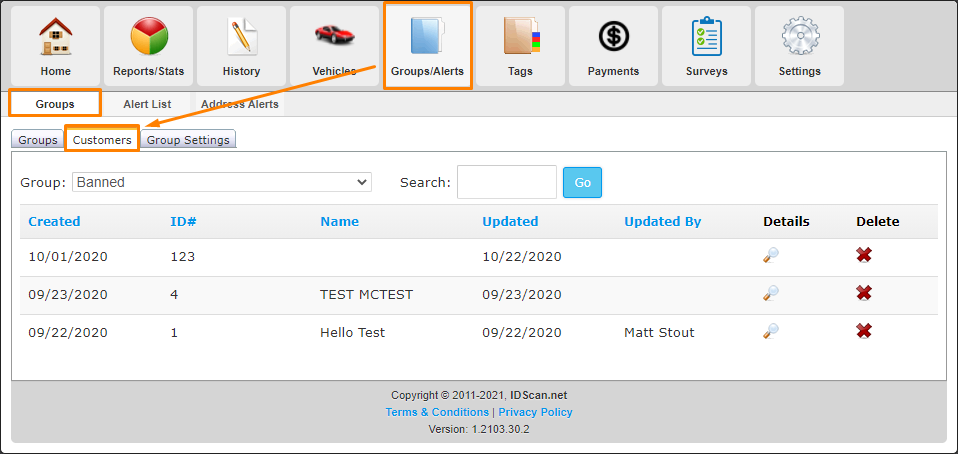 First, select the appropriate group to search within using the Group drop down menu.
Next use the Search field to search for a specific text string within the list.
The magnifying glass under the Details column will show a quick overview of the customer's profile.
The red X under the Delete column will remove that customer from the group.
Group Settings

Group Expiration: Select the amount of time after which someone placed in a group will be removed from that group. This setting applies to all groups.
Auto-expire groups to: Enabling this setting adds an additional drop down menu allowing a single group selection. When someone is removed from a group after the expiration time set, that person will be moved into this group instead of no group.