A list of all Thales CR5400 firmware updates
TABLE OF CONTENTS
Understanding The Issue
Overview
Beginning in November of 2020, the manufacturing process for Gemalto CR5400 was updated to improve image quality and overall performance. This hardware update requires the latest Gemalto SDK 3.4.2.5 Patch 25 to be included with your software for maximum compatibility and stability when scanning. This patch was included in VeriScan version 2.134.3 and up as well as WizzForms 1.134.0 and up.
Without the latest version of the SDK, some models of the CR5400 can become unstable without a firmware patch. Affected serial numbers range from 54A20460001 to 54A20460500. This firmware patch will increase the stability of your scanner if your software is not using the latest performance and stability patch from Gemalto SDK 3.4.2.5 Patch 25 and greater.
Subsequent models of the CR5400 with a serial number greater than 54A21010000 include the firmware update preinstalled from the factory. If you have one of these newer models, you do not need to install the firmware update and the SDK update is only required to improve the performance of your device.
If you're not sure if you're affected or not, you can use the chart below.
If you still have questions, feel free to ask your account manager or create a new support ticket .
Am I affected?
Software

Device Serial Number

Status

VeriScan 2.134.2 +
WizzForms 1.134.0 +


ANY


OK


Older VeriScan
Older WizzForms
ANY
Update to the latest version of VeriScan
Update to the latest version of WizzForms
SDK / 3rd Party Software


542101xxxx or greater


Check with publisher for Gemalto SDK update
(firmware patch not needed)


SDK / 3rd Party Software


54A2047xxxx - 54A2052xxxx


Check with publisher for Gemalto SDK update
Apply firmware patch if needed


SDK / 3rd Party Software


54A2046xxxx


Check with publisher for Gemalto SDK update
Apply firmware patch
Updating Your Software
If you are using one of the affected scanners, you may need to update your VeriScan or WizzForms installation.
As always, you can download the latest version of our software from our website here.
If you have any issues updating your software, feel free to create a new support ticket .
3rd Party Software / SDK
If you are using one of the affected scanners, the Gemalto SDK update will need to be included to ensure future compatibility.
If you are a developer using our SDK, you can get the latest SDK updates directly from Gemalto-Thales and integrate it into your software.
If you are using third-party software, you'll need to reach out to the software publisher to include the latest Gemalto SDK in their software to get the latest in performance and stability updates. In the meantime, if you are having issues with your CR5400 reader and wish to apply the firmware patch for more stability, you can use the guide below.
Updating the Device Firmware
To install the firmware update to your CR5400 device, you can use the following steps.
If you're not comfortable doing this yourself, please create a new support ticket .
Our technicians are available to schedule a time with you to perform the firmware update remotely.
IMPORTANT
Updating the firmware of any device carries certain risks.
To avoid damaging your CR5400 scanner:
Make sure that the update process is not interrupted
Make sure that only 1 scanner is plugged into your PC at once
Close out of any unnecessary background tasks before beginning the update process

Do not unplug the scanner or computer until the update is completed
Steps to Update the Firmware
If you are using Windows 7, you must first run the DocumentReaderDriversSetup_1.26.20.exe
Unzip the firmware updater to a folder on your desktop:
CR5400_FW00291_01_70_DocReaderFirmwareUpdater_RevQ
Disconnect all other scanners or readers from your PC.
Make sure that no other scanning programs are running in the background.
Verify in Device Manager that your reader is connected under Universal Serial Bus Devices.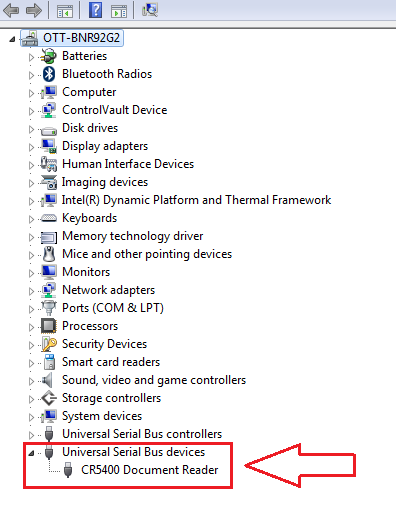 Wait for the status LED on your reader to turn solid Blue. Do not continue if your status LED is flashing.
Execute DocReaderFirmwareUpdater_Q.exe from your unzipped folder on your desktop
You are fully connected to the application when you are able to see the following information:
Serial Number
Bootstrap
Firmware
DO NOT MANUALLY POWER OFF UNIT DURING THIS PROCESS.
THE DEVICE WILL AUTOMATICALLY RESTART ON ITS OWN.
Press the Update Reader Files button and follow along the message window and progression bar
IGNORE THE SERIAL AND FIRMWARE NUMBERS IN SCREENSHOTS
THESE IMAGES ARE JUST FOR REFERENCE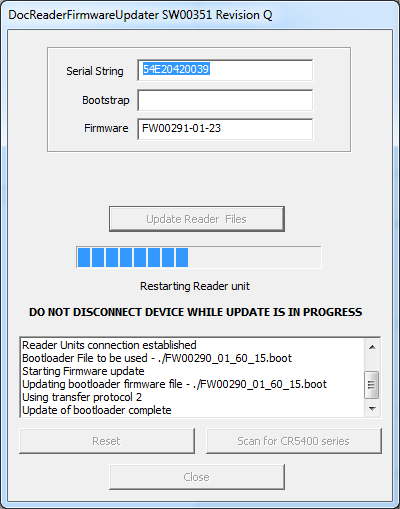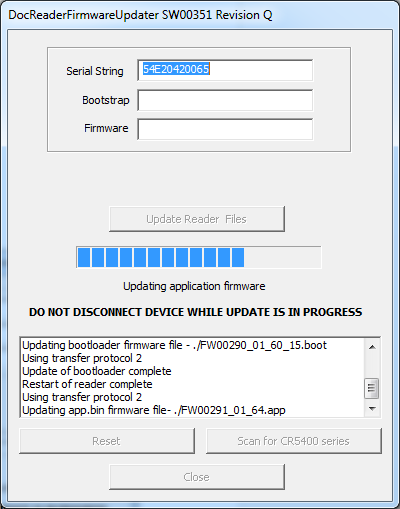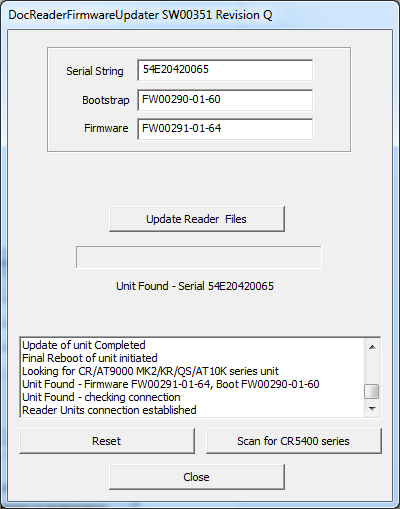 The full process may take anywhere from three to five minutes.
Please be patient as at times it appears nothing may be happening.
There are several steps in the process where the reader is re-programming itself.
The updater will let you know when the process is complete.
You should see the Serial Number, updated Bootstrap number, and updated Firmware number.
If you do not see the Bootstrap or Firmware windows populate, press the Scan for CR5400 series button.
You can watch one of our technicians perform the update below.
This video is not instructional and is meant as a reference to be used in conjunction with the above steps.
Demonstration Video