How to install the E-Seek M280 hardware drivers
TABLE OF CONTENTS
Installing the M280 driver and enabling the barcode reader and image reader requires you to be logged in with an Administrator account on your PC.
Step 1 - Installing The Barcode Driver
Download and install the M280 Barcode Reader Driver from our website.
Once installed, this driver will allow your PC to detect the PDF417 reader and magnetic stripe reader on your M280.
To enable image capture on the M280, there is a separate driver that needs to be installed.
Step 2 - Installing The Image Driver
Download the Image Reader Driver from our website.
Right-click the M280v2_Driver.zip file and select "Extract All."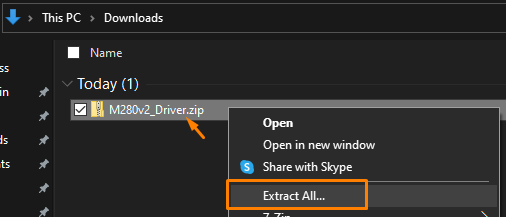 Once extracted, open the Device Manager and locate the section called "Other Devices."
Right-click on the device called M280V1 or M280V2 and select the option "Update Driver."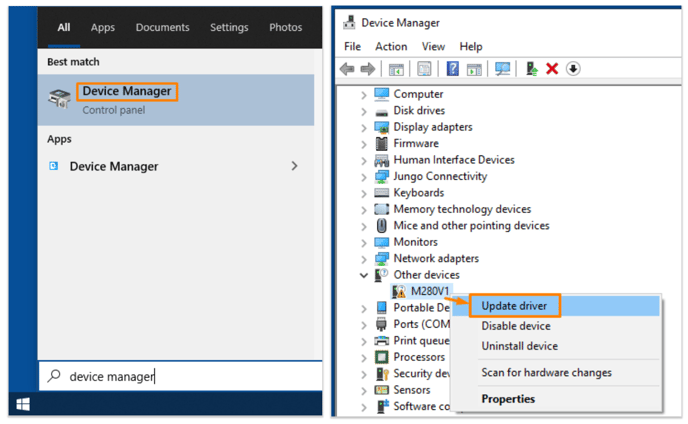 A window will appear asking you how you would like to update the driver.
Select the option that says "Browse my computer for drivers"

When the Browse for drivers on your computer window appears, select the Browse button.
In the File Browser window, select the location to which you extracted the M280v2_Driver.zip file.
Likely, the location will be in your Downloads folder.
Select the subfolder that matches the Windows Version and CPU architecture of your system.
For example, the following image shows the correct location for Windows 10 64-bit.

Once you have selected the appropriate folder, select Next and allow the drivers to install.
Once you receive the message "Windows has successfully updated your drivers" your M280 is ready to capture images.

Step 3 - Configuring Scanning Software
Follow this setup guide for COM port scanners to identify your scanner's COM port and allow your scanner to communicate with VeriScan or WizzForms.
If you have any questions or run into any issues getting set up, reach out to the support team by generating a ticket here.