A reference guide for the E-Seek M280 ID Scanner
TABLE OF CONTENTS
Introduction
The E-Seek M280 allows for the reading and capture of all electronic data while concurrently providing the ability to scan and capture a complete image of both sides of an ID Card or License.
The M280 reads all data from both the 2 Dimensional Barcode (PDF 417) and the Magnetic Stripe utilized on ID cards and Drivers' Licenses. In addition, the ID card or license can be positioned on the scratch proof glass lens of the M280, and with the simple press of a button a full high resolution image (JPEG) of the ID is captured and attached to the data stream.
With the ability to quickly and easily marry the Electronic data to the Image, the Model 280 provides a capability that is being required by an increasing number of applications.
| | | |
| --- | --- | --- |
| Ideal For | | |
| Age Verification | Police Patrols | Visitor / Lobby Management |
| Vote Systems | Access Control | Casino / Gaming |
| Border Control | Passenger Check-In | Check Cashing |
| Law Enforcement | Department of Motor Vehicles | Credit Card / POS Terminal |
| Kiosks | Club / VIP / Royalty Card | Automatic Data |
To find the best solution to meet your needs, contacts us today!
M280 Major Components
Product Specifications
Imager
CMOS Image Sensor (272 DPI)


Barcode Reader
2D: PDF417
Linear: Code 39, Code 128


Magnetic Reader
3 Track Magnetic Reader (ANSI, ISO, CDL, AAMVA)


Card Size
ISO Standard Size 2.125" x 3.375"


Key
Image Capture Button


Weight
0.884 lb (401 grams)


Dimensions
Length: 7.11"
Width: 4.35"
Height: 2.80"


Operation Environment
Operating Temperature: 32 to 114 F (0°C to 45°C)
Operating Humidity: 10% to 90% (non-condensing)


Connectivity
USB 2.0 High speed (Type B)


Power Supply
USB Power
Recommended System Requirements
More than Intel Core 2, or AMD Phenom™ CPU
More than 2 GB memory
USB2.0 High speed
Windows XP with Service Pack 2 or later, Windows Vista, or Windows 7, 8.1, 10, or 11 (32-bit or 64-bit)
Unpacking the M280
The M280 package includes:
The M280 is provided with a USB interface cable.
This cable allows the M280 to interface with standard USB port on your computer.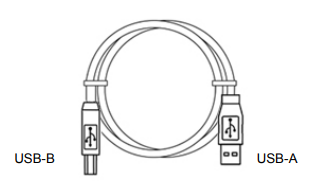 Getting Started
Install M280 on your PC
Connect the M280 to the system using USB Cable
Follow the M280 Driver Installation Guide
Check for proper installation.
Go to Start > Control panel > Device Manager
Select and open Universal Serial Bus Control
Right click on M280 USB Driver
Select properties.
You will see "This device is working properly"
For troubleshooting or technical questions, please contact
Using the M280
LED Indicators
The M280 incorporates three LED indicators.
These LEDs are assigned to the following functions:
Scan Status LED

This LED indicates barcode scanner status.
Red color means barcode scanner or magnetic stripe reader is in use or processing the read.
Green color means barcode scanner or magnetic stripe reader is awake and ready to use.

Imager Ready Statue LED

This LED indicates Imager ready status.
Green color means ready to capture the Image.

Image Capture Status LED

This LED indicates Imager capture status.
Red color means the Image is being