How to enter and activate your Authentication License key
TABLE OF CONTENTS
Getting The Computer ID
To receive a license key for IDScan.net's Authentication Engine, two things are required:
A valid order number with an Authentication Engine purchase.
The Computer ID for the PC you will be using the Authentication Engine on.
The order number will be generated at the time of purchase and sent to you by our billing department.
Keep this order number handy when submitting a license key request.
The Computer ID can be generated in one of two ways.
Option 1 - VeriScan Desktop
Ensure that VeriScan Desktop and the IDScan.net Authentication Engine are installed correctly.
Go to VeriScan Desktop > Setup > Validation Settings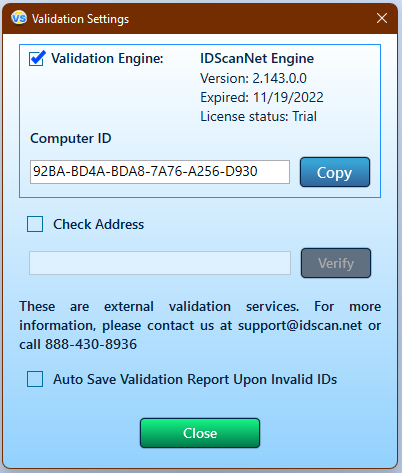 The Validation Settings window should appear showing the IDScan.net Engine version number and license status.
In this window, you can check:
If Authentication is Enabled or Disabled
Engine Name and Version
Expiration Date
License Status
Computer ID
If this is your first time, it will show a License status "Trial"
It will also show a text box labeled Computer ID.
Use the Copy button to get your computer's unique ID.
To get your license file, please create a support ticket here with the following required information:
Option 2 - Computer ID Tool
If you are using the Authentication Engine with another product, or as a standalone SDK, you must use the Computer ID tool.
An IDScan.net technical support agent will provide instructions along with the Computer ID tool.
To request a license key for use without VeriScan, please create a support ticket.
Be sure to include the phrase "Authentication SDK License Key" in the ticket description.
Have your order number handy as well, as it will be required when you submit your Computer ID for licensing.
Installing The License File
Download the license file and paste it into the following folder location:
C:\ProgramData\IDScan.net\ValidationSDK
Make sure to match the license folder location exactly.
If the folder does not already exist, you may need to create a new folder in this location. Once complete, your file manager should look like the example below.