A guide to disabiling offline scanning for maximum PII security
Introduced in VeriScan Desktop v2.150.8, VeriScan Online users on a Premium or Enterprise subscription can now request for offline scanning to be disabled when disconnected from the internet. This is especially useful when other aspects of your business rely heavily on the scanning of IDs, such as using an integration or staying compliant with certain regulations.
Scanning Disabled Popup
To begin restricting offline scanning while disconnected from the internet, contact support@idscan.net with the subject 'Disable Offline Scanning', along with the email associated with your account. Once you've received confirmation from our support team, restart your application.
Normal online scanning is indicated by the 'globe' icon located at the bottom right of the application.

When the internet connection is lost, a popup will appear on the screen.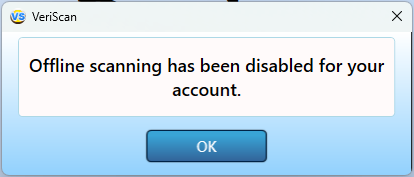 Offline mode is also indicated by the status bar at the bottom.
No connection, globe with red strikethrough
This popup will continue to appear with each scan, log entry, or manual entry, but will go away once the internet connection has been reestablished.