A guide to document collectors
TABLE OF CONTENTS
Download and Installation
When you need to capture a document for testing purposes, a support agent will provide you with a download link for the Document Collector application. This will create a secure file you can send back to the team containing all relevant information needed to identify and test the document.
Run the DocumentCollectorSetup.exe and install the Document Collector application.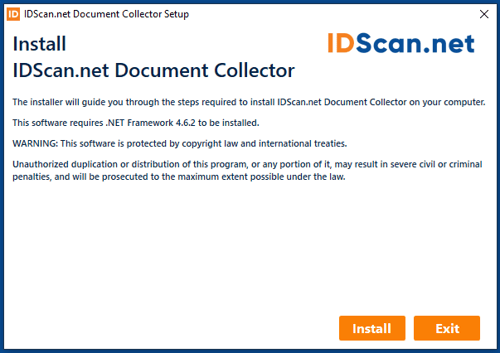 Once installed, a new icon will appear on your desktop called IDScan.net Document Collector.
Double click it to launch the application.
A window will appear with a dropdown menu for your device as well as the path to which it will save the documents.
Ensure that the serial number of the Device dropdown menu matches the serial number of the scanner you wish to use.
It should also say "Connected" in the bottom left-hand corner.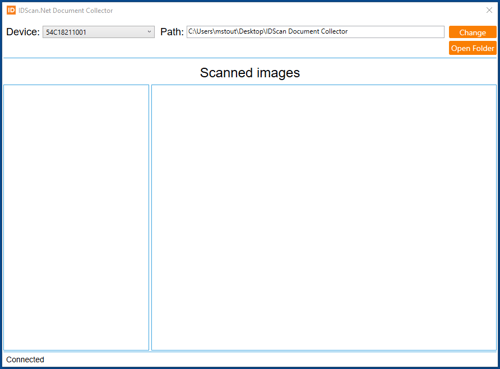 If your device serial does not appear and you do not see "Connected" try restarting the program after your device is initialized.
By default, captured documents are saved to the default path.
C:\Users\"Username"\Desktop\IDScan Document Collector
You can change this by pressing the orange Change button and selecting a new location.
Capturing a Document
Now that your Document Collector is properly configured, it's time to capture an ID.
CR5400
If you are using a CR5400 scanner, drop the ID into the slot and wait for the scan to finish.
The LEDs will blink for a few moments, and you should see an indicator in the bottom right while it processes the scan.

Once the LED is solid blue again, the ID will pop back out of the CR5400 and the lower left-hand indicator will say "Saved"
AT9000 / AT10k
If you are using an AT9000 or AT10K scanner, slide the image face down all the way to the back left of the scanner.
A window will appear that says "Please flip the document"

Pull the document out and place it barcode side down to complete the scan.
Finalization
Once the scans of the document appear in the main window, the scan is complete.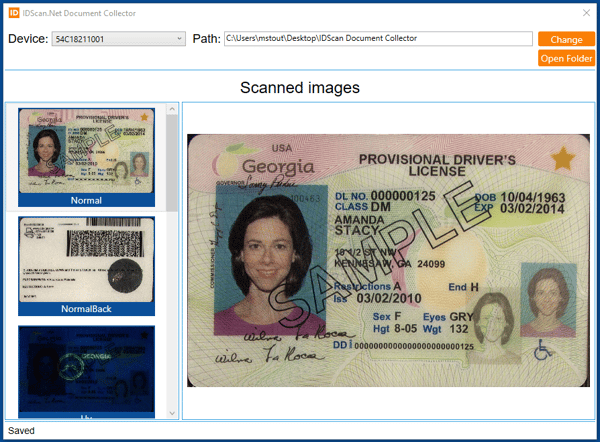 Press the Open Folder button to see the IDs that you have scanned.
The name will be a long string of characters with a file type ".IDS"

If you only have one or two IDs to send, please attach them to an email and send them to your support agent.
If you have several IDs, it is more efficient to upload them to a shared folder via a file hosting service.
i.e. Google Drive, DropBox, etc.