How to use our QuickSupport remote access tool for assistance with troubleshooting
IDScan.net now offers IDScan.net Quick Support.
An easy to use remote access troubleshooting program which can be downloaded directly from our website.
To install IDScan.net Quick Support offering easy remote access and assistance follow the steps below:
1.) Open a web browser and navigate to www.idscan.net/quicksupport.

This will download Quick-Support.exe.

2.) You will most likely need to click the three dots and select "Keep" - this is because your web browser will warn you about downloading .exe files that you do not trust.

Do not worry, this is our program hosted on our website. It creates a secure encrypted connection between your computer and the agent's computer.


If you have Microsoft Defender SmartScreen enabled, then Windows will also flag the file.
This should not alarm you - Windows just wants to make sure you trust the source before downloading .exe files.

3.) Click the "Show More" arrow, and then simply select "Keep Anyway."
4.) Next, navigate to your downloads folder and run Quick-Support.exe. Microsoft Defender SmartScreen will once again make sure you wish to run this program. Click "More info" and then "Run anyway."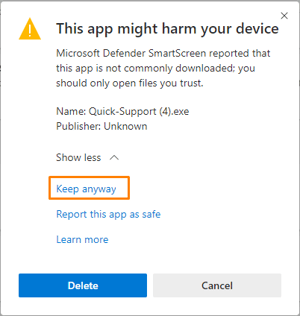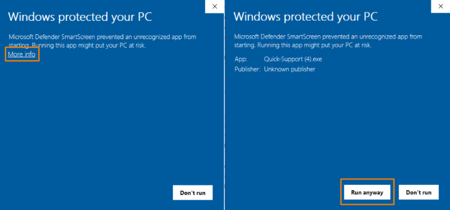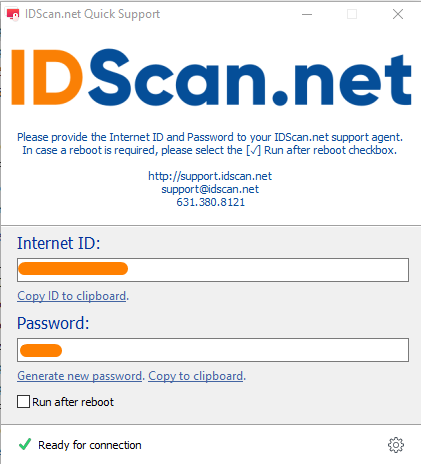 Please provide your IDScan.net technical support agent with the Internet ID listed on the program when asked.
Next the agent will request the Password listed on the window.
The ID and Password are unique to your computer and are part of an encrypted connection created between the agent's PC and yours.
Once the connection is complete, the agent will have remote access to your computer and can assist you with any issues you may have.
You can check the "Run after reboot" option to allow the program to relaunch after restarting the computer. This will allow the agent to continue troubleshooting even after a computer reboot.
Both remote control and remote view modes are available, please request if you would like the agent to only be able to view your computer.
If you experience any issues or have any questions regarding remote support, please email support@idscan.net.