How to download the VeriScan app on your Android scanner, sign in, and start scanning IDs.
Table of Contents
Applies To
✔️ VeriScan Basic
✔️ VeriScan Premium
✔️ VeriScan Enterprise
❌ VeriScan ID Authentication
---
Download the VeriScan App
These steps may be slightly different depending on your device and which version of Android you are running. The following steps are a general how-to guide, but if you need more specific information for your device, you can follow one of our in-depth Android Scanner Setup guides.
Signing Into the Google Play Store
It is strongly recommended that you download the VeriScan app directly from the Google Play Store. For a step-by-step guide on signing into the Google Play Store and enabling auto-updates for VeriScan, you can check out this guide.
Downloading VeriScan from the Google Play Store ensures:
you are always notified when there's an app update.
you never have to manually download an update again.
you gain access to other features on your device, such as Find My Device from Google.
If you don't already have an account, you can follow this guide from Google to get started.
If you don't already have an account, or you don't wish to use your personal account on a work device, we suggest you work with your IT team to create a Gmail account for your devices.
Installing the VeriScan Android App
You can download the latest version of the VeriScan app from the Google Play Store.
If the direct link above doesn't work, you can search for "VeriScan Cloud" and look for the blue icon with the letters "VS."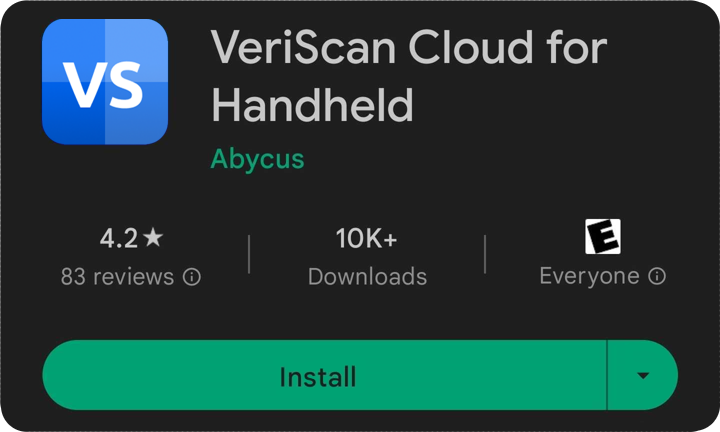 Tap on the green Install button to download VeriScan Cloud for your device.
Once the app is installed, it should appear on your device's home screen. Tap the blue icon with the "VS" logo to launch the VeriScan app.
It may appear as a square, circle, or squircle depending on your device and version of Android.
| | | |
| --- | --- | --- |
| VeriScan Square | VeriScan Circle | VeriScan Squircle |
| | | |
---
Sign Into the VeriScan App
Using the application requires an active subscription to VeriScan.
You will need your Device Login to log in and start using the device.
When you first launch the VeriScan app, you will see a login page for your account.

Make sure to use your Device Login to sign in here, as your portal login will not work.

For VeriScan Basic customers:

Use the device credentials sent to you via your welcome email.

For all other VeriScan customers:

Be sure to use a unique Device Login for each of your devices.
You can create and manage Device Logins from the VeriScan Cloud Portal.
---
Start Scanning
Now that you're logged in, you can start using the VeriScan app.
From the main screen, if you're using one of our compatible Android Scanners, you can press one of the brightly colored hardware buttons to fire the laser and scan a barcode.

Here's a brief rundown of the main VeriScan app home screen:

Scan History - see your recent scan history and review past visitors.
Manual Entry - use this if your visitor doesn't have an ID but you want to track them in the VeriScan Cloud Portal.
Menu Button - use this button to open the settings menu in the app.
Cloud Icon - Use this button to toggle Online and Offline* mode.

*Note: Offline mode has limited functionality and varies by product tier.