How to make a new VeriScan Basic account and get your device credentials.
Table of Contents
Applies To
✔️ VeriScan Basic
❌ VeriScan Premium
❌ VeriScan Enterprise
❌ VeriScan ID Authentication
For VeriScan Premium, Enterprise, and ID Authentication customers, click here.
---
Signing Up
Creating a new VeriScan Cloud account is easy.
To get started, go to the Passport Signup page and click the blue Sign Up button.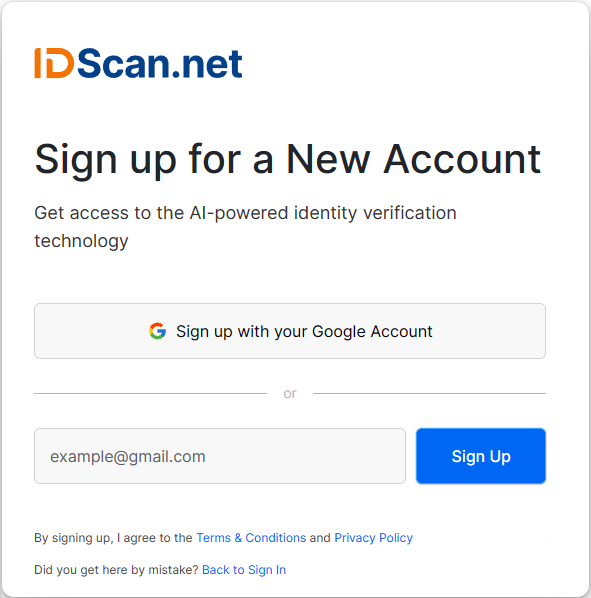 After a few brief questions, your account will be created with access to the VeriScan Cloud Portal.
Your account is initialized with 1 device login. You can add more users and devices by upgrading to a higher tier of VeriScan.
Fill out the Who Are You? page to create a new VeriScan account with information for your account owner:


Company / Organization name
Your First Name
Your Last Name

Fill out the Contacts page with contact information for your account owner:


Your Phone number
Comment / Additional Information

Fill out the Additional Info page with information about the location of your company:

Country
State / Province
Industry

Select the Basic subscription plan.

For VeriScan Premium and Enterprise accounts, please refer to this alternate guide.

After you have selected the Basic plan, your subtotal will be displayed on the next screen.

If you have a coupon code, enter it on this screen before you enter your credit card information. Be sure your tier and billing cycle are correct for your coupon code to apply properly.

Amazon Customers:
Select the annual basic plan.

When you see the success screen, your account has been made. Check your email for further steps to log into the VeriScan app.
---
Logging In
Once your account is created, you will receive an email like the one below.
It will give brief instructions and some information about your account.
Device Login
Use this to sign into the VeriScan app on your Windows, Android, or iOS device.
---

Thank you for registering for VeriScan Cloud, a powerful cloud-based visitor management and age verification platform.
Here is the login information for your SCANNING DEVICE:
Device Login: abcd1234
Password: abcd1234
Use this login and password to connect your scanning device to your subscription.
Feel free to contact Support with any questions.
---
Log Into the VeriScan App
To download the app, connect it to your account, and start scanning, select one of these options: