A guide to your VeriScan History
TABLE OF CONTENTS
Within the History tab, VeriScan Online allows you to view and export all of your scanned data. You can export fields such as First Name, Last Name, DOB, and just about any other field captured by your scanner.
Filtering / Viewing Your History
To filter your data, start by selecting your data range, then Filter.
If you're searching for someone in particular, you can type their name into the Text Search box, then Filter.

Your filtered data will display below.

Additionally, you can select to see your scans from a few presets.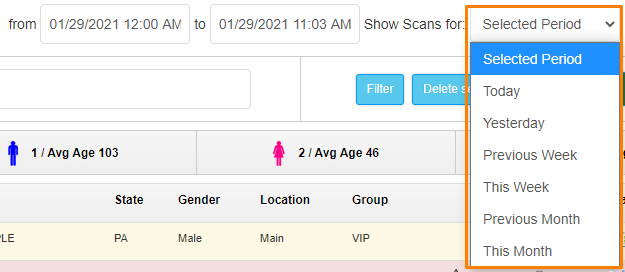 Exporting Your History
While VeriScan Online is home to several predefined reports, you can also export the entire History within a date range.
Start by once again selecting your date range.
With your filtered data displayed below, you can export it either as a CSV or a PDF.
PDF export

Excel (CSV) export

Agreements export (PDF)
If you use the Agreements feature (Enterprise subscription only), you can export all of the signed agreements.

Visitor Details
To view specific visitor details such as address and contact information captured at the time of scan, click on the magnifying glass to the left of the entry under the Details column.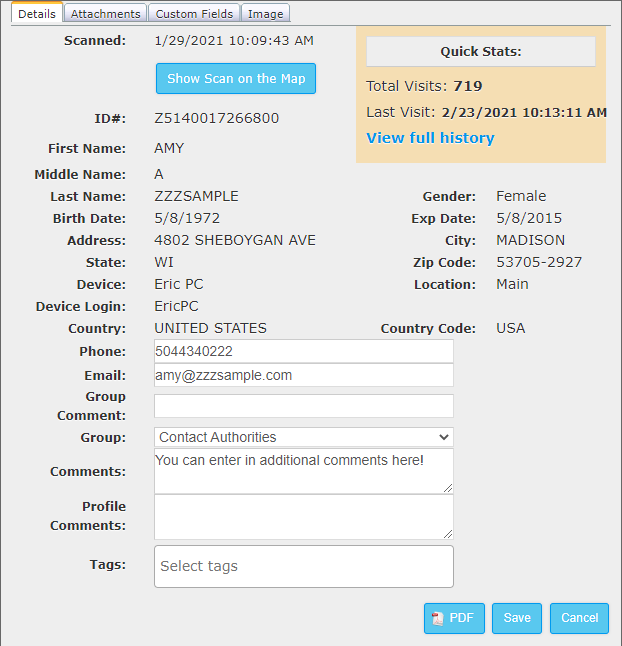 In addition to providing you with all of the captured info of an individual, you can also modify the assigned Group, Tags (Enterprise subscription only), contact info, and comments.
Attachments
Any attachments such as images captured by hardware scanners or signed agreements will appear.
There is also the ability to upload your own document.
Custom Fields
If you are using the Custom Fields feature (available with the Enterprise subscription and VS Max app), they will appear here.
Image
The main Profile Photo of the individual will be displayed here.
---
Deleting History Entries
To delete an entry select the checkbox at the far right of the entry. You can select multiple entries at once, and you can click the checkbox at the top the select all entries on that page. After selecting the entries you wish to delete, click "Delete Selected."