Introduction to Classic VeriScan age verification and visitor management system
TABLE OF CONTENTS
Note
Our updated version of VeriScan is available now here. It includes a modern, user-friendly interface, dark mode for low light environments, flexibility to choose what fields you want to see, the ability to filter and view visitor history in various ways, customize alerts, sounds and pop-ups, secure visitor PII, and lock application settings using the VeriScan Cloud portal.
Should I update to the latest version of VeriScan?
The following features are not available in the updated version of VeriScan, so if your workflow requires any of these, continue using Classic VeriScan.
Third Party Checks
In/out tracking and emergency roster
Non ID scanning
VeriScan as a service
Local database
SQL database
Tray mode
Fingerprinting
Introduction
By utilizing VeriScan and a Magnetic Strip or Barcode reader, you can capture, display, and save this information with an easy-to-use, streamlined interface. Assign groups, set alerts for underage visitors, and manage visitors with VeriScan Desktop for Windows.
With VeriScan Plus, use an image reader/scanner combo to save pictures of visitors scanned directly from the ID.
Store infrared*, ultraviolet*, and white light scans to the Images/Docs section of each profile.
*Infrared and Ultraviolet images are only available with certain image-reader-capable scanners. Visit our web store or ask a salesperson about which scanner is right for your needs.
System Requirements

To learn more about the SKU of your processor, ask our support team for a reference guide.
Installing VeriScan
Visit our website and download the latest version of VeriScan Desktop and the drivers associated with your scanner.
The Classic VeriScan software can be downloaded from here.
Your scanner's drivers can be downloaded from here.
Install the driver and VeriScan Desktop software with the default configuration.
Do not enable VeriScan as a service unless you are specifically instructed to by our support team.
Once the installation is complete, you can use VeriScan in trial mode for 100 scans with all basic features enabled.
For an unlimited number of scans, you can register your software.
Registration
Free Trial / Receiving Updates
VeriScan's complimentary evaluation version includes 100 scans and is fully functional. In this mode, the program saves every 5th scan into the log-file in a comma-delimited format (.CSV files can be opened in Microsoft Excel or similar).
The registered version of VeriScan allows unlimited scans. In the Registered mode, all scanned information is saved in a log file.
There is no need to contact our support team for a free trial.
You are automatically enrolled into our free trial after installing VeriScan.
VeriScan

If you are actively subscribed to VeriScan Online, you do not need to register the software.
Logging in with valid VeriScan Online credentials will automatically register your software: No license key required!
Once you receive or create your device login from veriscanonline.com
Go to the Setup tab.


Click the Set Data Sources button.


Enable the checkbox for VeriScan Online.


Enable any additional features*.
*Varies based on subscription level.


Enter your device login information.


Click the Verify button.


Click the OK button.
Using VeriScan
You can download and read our VeriScan Desktop Manual and can contact our support team if there are any issues.
Once an ID has been scanned, VeriScan creates a profile tied to the specific ID number.
All of the information stored on the ID is saved to the profile.
There are large indicators for age, gender, and expiration.
You can also manually add information such as group, phone number, and email address.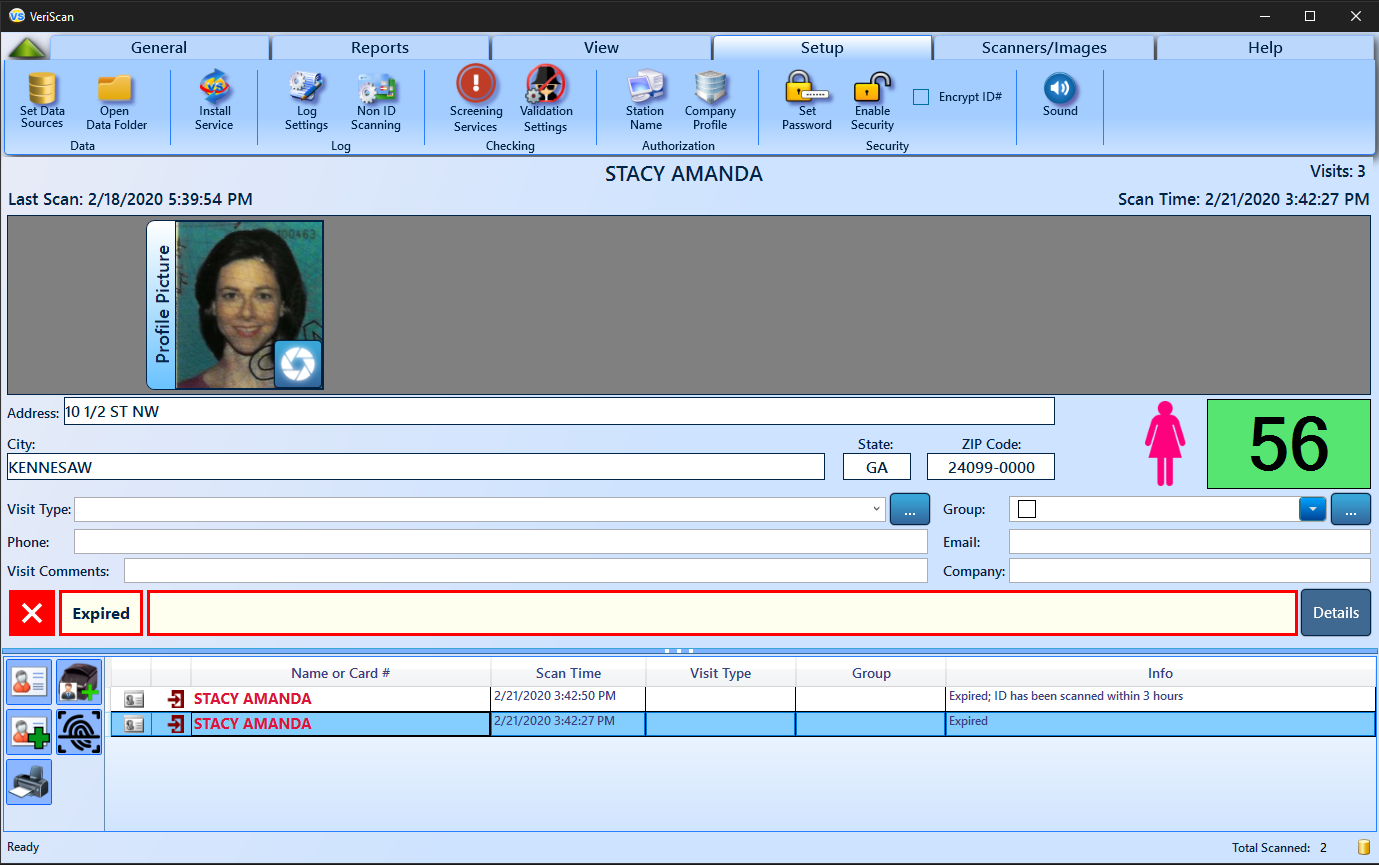 Creating a profile picture from a scan requires VeriScan Plus and a compatible scanner.